Cool Google Logo for Beijing Olympics 2008.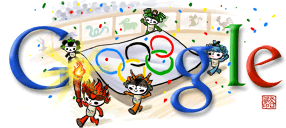 Aren't the Google logos good looking? They are so clever! I bet the guys/gals who design them get paid a fortune to sit around and come up with cool ideas.
Talking Olympics. Did you see the opening ceremony? I read somewhere all the dancers were practising their moves for a year to get it right. Talk about perfectionists. They even had a massive fireworks display a couple of days before to test everything out. That must surely scared the shit out of every animal in the vicinity.
Spare a thought for the millions of displaced chinese people who still don't have homes after that earthquake a couple of months back. I wonder how they feel seeing all this money being wasted on fireworks and the Olympics Ceremony. I guess the UK will be in the same position in 4 years times.
Mike
Mike is an android man, researcher of all things good and bad, likes all wheeled sports, loves gadgets, enjoys all music, into home automation, likes samsung, voted brexit, enjoys talk radio, has a brompton bike, is a hard worker, a passionate self-educator, crazy about drones, a gambler, blogger for over 15 years, enjoys gardening, microsoft over apple, investor in stocks and cryptocurrency, a homeowner, a futurist, married for life, has family all over the world, a cat man do, loves beer, travel & life.
We are Mike and Jo Bowen. Originally from South Africa, we now live & work in the United Kingdom. Mike is the blogger, beer drinker, gadget man, reviewer and Jo is the proofreader, wine drinker, cat lady, sanity checker and "don't you dare put that on lookatbowen.com". Together we travel the world and have fun wherever possible. If you are new to this website and want to know more about us, check out the the longer version.
A Featured Site